Best Pet Dentistry in Coconut Creek, FL!
Our pets' oral health influences their general health and wellness. If their teeth aren't looked after correctly, our pets can develop dental disease. This not only creates pain as well as causes missing teeth, it can likewise spread out infection to the internal organs, like the heart, kidneys as well as liver, creating severe body organ damage. Come see us to get your animal's teeth in tip top shape!
Non-Anesthetic Dental Cleaning at our Coconut Creek location.
Click below to Book Your Appointment Today!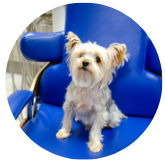 Pet Dental Cleanings
Most of our patients have symptoms of oral disease much earlier than pet parents would expect or recognize. Periodontal disease is a progressive health issue that begins as plaque accumulates on your pet's teeth. Just like with humans, this plaque quickly calcifies into tartar. As the tartar begins to spread beneath your pet's gumline, it causes a harmful chain reaction by giving nasty bacteria a place to hide, while progressively destroying the attachment of the teeth to the jawbone.Pets with periodontal disease often live with a painful mouth & never show obvious signs of it until that destruction has really advanced. Because the onset is usually gradual, periodontal disease is a problem that's often overlooked by our clients. By performing routine professional cleaning, we will make sure your pet has as healthy a mouth as possible, & lives a longer, healthier life.

Read What Customers Near Coconut Creek Are Saying
We love our customers from areas around Coconut Creek, Florida Coconut Creek, Bonnie Lock, Tedder, Crystal Lake, Lakeview, Parkland, West Deerfield Beach, West Dixie Bend, Boca Pointe, Sandalfoot Cove, Boca Del Mar
Come visit our pet supply store in the Coconut Creek, FL specializing in quality food, treats, and supplies for cats and dogs.